The University Club - University of Western Australia
, Hackett Entrance #1, Hackett Drive,
Crawley (Perth)
,
WA
,
6009
,
Australia
Download event flier
Play has always been part of learning and growing, as well as providing enjoyment and fun. Play is an important measure of children's development, as it encompasses emotional, social, cognitive and language aspects. Research has indicated a significant relationship between the quality of children's pretend play during the preschool years, and their cognitive skills, social skills, language, literacy, and problem-solving ability in early primary school and beyond.
This workshop will be provided in two modules.
Module one (one day) will provide therapists with an ability to "refresh" or gain knowledge with regard to understanding "typical" play deficits seen in children and the assessment of a child's play development (including use of the Pretend Play Enjoyment Developmental Checklist). This workshop will be practical with case studies to illustrate examples of how play can be understood during assessment. The Animated Movie Test will also be included for those who work with older children.
Module two (two days) through the use of case studies, participants will be provided with a clinical reasoning framework based on an advanced understanding of the Learn to Play Therapy, as well as skills/strategies to implement intervention programmes for a variety of clinical groups/clinical environments. Units covered include:
Play and Autism
• Play in Schools (ie developing early literacy skills and linking play to the National Curriculum)
• Transdisciplinary Play intervention
• Play with children with a history of Trauma/Abuse.
* Participants will be able to attend a three-day workshop combining Modules one and two. Or alternatively if participants have previously attended a Module 1-  Developing Effective Play Skills in Children workshop, they will be able to opt to attend Module two only. (
NB. Prerequisite knowledge and skills gained within Module 1 include – knowledge of the developmental continuum of pretend play skills, assessment of pretend play skills using PPE-DC and knowledge of the key principles/attributes of the play skills that form the Learn to Play programme).
This workshop is suitable for both occupational therapists and speech pathologists.
Arrival tea/coffee, morning tea, lunch and afternoon tea provided. Attendees will also be provided with a workshop folder containing their participant notes for the workshop.
About the Presenter  
Emeritus Prof. Karen Stagnitti – Karen graduated with Bachelor Degree in Occupational Therapy from the University of Queensland in the late 1970's. For more than 20 years, Karen has worked and led community-based paediatric and specialist early childhood intervention programs. She has extensively worked with families, children, preschool and kindergarten teachers, early primary school teachers, doctors, paediatricians, speech therapists, occupational therapists, paediatric physiotherapists, psychologists, social workers, dieticians, specialist early childhood workers and early childhood workers. In the early 1990's she became serious about researching children's play.
In 2003 she was awarded a Doctor of Philosophy from LaTrobe University. Her research work has primarily focused on how to measure a child's pretend play within the confines of clinical practice. The result of this research led to the development of Child-Initiated Pretend Play Assessment (ChIPPA). Since 2003 Karen has continued to research children's play including further studies on the reliability and validity of the ChIPPA as well as a highly successful intervention play therapy program called Learn to Play.
Event Location
Address:
The University Club - University of Western Australia
, Hackett Entrance #1, Hackett Drive,
Crawley (Perth)
,
WA
,
6009
,
Australia
Transport:  The University Club – University of WA is well serviced by public transport. For further information visit www.transperth.wa.gov.au
Parking:  Full day parking is available on a pay and display basis along Hacker Drive and in all of the car parks marked with a green symbol on the map below. As the pay-and-display machines only accept coins at this point in time, it is advised to bring change with you.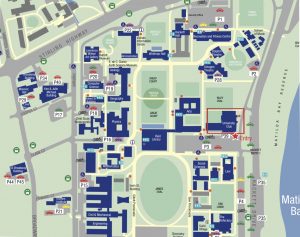 Full-day parking is also available in car park 3 (immediately adjacent to the Club) at a cost of $15 per bay. You can purchase a blue parking permit from the parking attendant on duty, which must be displayed on your dashboard. Please be sure to park in the designated bays and not in the red parking permit section. Without a blue parking permit, there is a 3 hour limit in this car park.