We're sorry, but all tickets sales have ended because the event is expired.
Angliss Conference Centre
, Building A, Level 5, 555, La Trobe St,
Melbourne
,
Vic
,
3000
,
Australia
Download event flier
Anxiety: Stress: Resilience in Children
What can Occupational Therapy do?
Today's fast-paced society and the increased social and academic demands on children/families can present children with numerous challenges, setbacks, failures and difficult/disappointing situations. For young children, constant worrying about everyday activities (eg playing with friends, completing homework tasks, parental relationships), as well as worry about external events (eg natural disasters), can significantly detract from their occupational performance within a myriad of daily tasks. Anxiety is considered to be one of the most common forms of psychological disorders, affecting up to 20% of children and teenagers. Anxiety symptoms can interfere with a child's ability to effectively participate in school activities, self-care tasks and social opportunities.
Emotional resilience is the ability to "bounce back" or overcome life's challenges. Emotional resilience is a valuable skill for all children. The capacity to be resilient empowers children to develop coping behaviours, to persist or work through setbacks, cope with stress, develop confidence and maintain a healthy self-esteem. Supported by evidence from neuroscience and resilience frameworks, this workshop uses an occupational performance approach to outline the various ways occupational therapists can assist children at all ages and stages and their families to promote and support children's resilience.
Workshop Aims/objectives:  At the end of this workshop, participants will:
Recognise signs of anxiety and reduced resilience that impact on children's occupational performance
Explain the variety of possible internal and external triggers for anxiety and reduced resilience in children
Identify factors which support and foster resilience in children
Identify factors which support and foster resilience in children
Plan strategies to assist children to develop the tools they need to respond to life's challenges in a capable and effective manner. For example:

formation of positive friendships/social skills
development of positive self-esteem
emotional self-regulation
planning and problem solving -skills

Suggest strategies to facilitate parents/teachers to support children in managing their anxiety.
This workshop will bring together a number of guest presenters who are able to share their expertise across the developmental continuum. Presentations will look at a range of programmes/interventions that address the needs of a variety of ages and populations from vulnerable young children, through to primary and high school services. The presentations will address intervention programming from an individual, group and/or whole school approach.
 This two day workshop is suitable for occupational therapists.   Arrival tea/coffee, morning/afternoon tea and lunch provided.
Presenter: 
Dr Chris Chapparo PhD, MA, DipOT is an academic and is widely recognised on an international level for her contributions to occupational therapy through teaching, research and community service activities. Chris has co-authored the Occupational Performance Model (Australia). Chris is a founding member of Sensory Integration International and the Australian SI Faculty and she is a neurodevelopmental therapy instructor. Her research interests lie in how children use cognition during occupational performance and social participation. Chris will outline the neuroscience background to anxiety and resilience and link those findings to children's occupational performance.
Event Location
Address:
Angliss Conference Centre
, Building A, Level 5, 555, La Trobe St,
Melbourne
,
Vic
,
3000
,
Australia
Transport:  Angliss Conference Centre is well serviced by public transport. For further information visit www.metlinkmelbourne.com.au or www.vline.com.au or www.metrotrains.com.au
Tram – There is a tram stop out the front of the Institute's main entrance on La Trobe St. Leave the tram at the corner of King Street and La Trobe streets. It is well serviced by suburban trams, as well as the City Circle (free service)
Train – closest train station is Flagstaff Station. Exit the station on La Trobe Street, head towards Spencer Street. William Angliss will be on your left on the corner of King and La Trobe Street. Interstate and Regional Trains depart from Southern Cross Station (formerly known as Spencer St Station).
Parking:  Parking – Please refer to map below with details of the car parks within closest proximity to the centre.   P2 is the best option for delegates.
• P1: $14.00 flat rate – Cash only (car park attendant)
• P2: $12.00 flat rate – Coins or Credit Card Machine (outdoor) – Entry via Spencer st (Little Lonsdale is a one way street)
• P3: $10.00 flat rate – Cash only (car park attendant) BUT you have to leave your keys.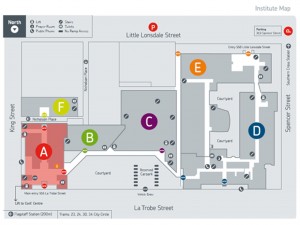 Accommodation: The Angliss Conference Centre is only a short distance from many accommodation options within the Melbourne CBD.